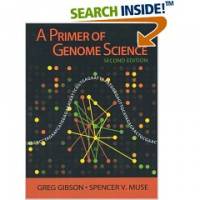 Authors: Greg Gibson, Spencer V. Muse
Publishing: Sinauer Associates
Published: 2004

Genome science as a discipline is less than five years old, but has already spawned a revolution in the way in which genetics is taught in universities, approached by academic researchers, and applied by pharmaceutical and agricultural research companies. While over a dozen new journals devoted to genomics have appeared in the last few years, no introductory textbook that covers the range of disciplines incorporated into genome science has materialized, until now. A Primer of Genome Science bridges the gap between standard genetics textbooks and highly specialized, technical, and advanced treatments of the subdisciplines. It provides an affordable and up-to-date introduction to the field that is suited to advanced undergraduate or early graduate courses. Bioinformatic principles and experimental strategies are explained side-by-side with the experimental methods, establishing a framework that allows teachers to explore topics and the literature at their own pace.
Odkazy: