Clarion Congress Hotel České Budějovice - Svět hall, address: Pražská třída 2306/14.
Participants will be provided with power supply, i.e. electricity plugs for their PC, Wifi internet connection, presentation and conference equipment.
We offer participants of the event to place a presentation kiosk in the lecture hall (see Partners).
In close proximity to the Svět hall, there is the Vajgar lounge with a small snack prepared for you.
Description of the route
By car:
From Prague – E55
Follow the route E55 from highway D1 in the direction to České Budějovice (via Tábor). After arriving to České Budějovice keep straight until you meet shopping mall UNI HOBBY, then go on to the centre. You will see a high building of the Clarion Congress Hotel approx. after 500 m on the left side; turn left to the hotel parking place.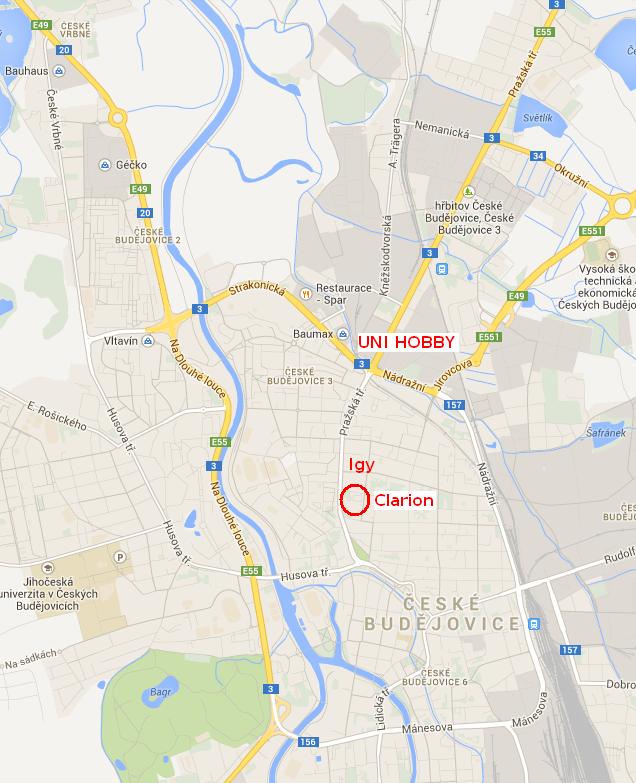 From Linz – A7, E55
Follow the route E55 to Freistadt. After arriving to České Budějovice (approx. 60 km from Freistadt) follow the direction to Prague. After you pass OMV petrol station, turn right at the second traffic lights (direction to the centre), and then turn left on the next traffic lights. You arrive to the Clarion Congress Hotel after 200 meters, turn right from the main road to the hotel parking place.
---
From the main railway and bus station
We strongly recommend you to use public transport lines 5, 6, 9, 11 to the station "Družba – IGY" if you arrive by bus or train.
---
Accommodation
We offer accommodation at the hotel Clarion for a discount rate of 1300 CZK for a double-bed room for one person or 1700 CZK for two persons.
If you are interested in the discount accommodation, contact, please, directly Clarion hotel with the reservation code "MBK2013". We recommend you an early reservation as capacities of the hotel are limited.
Other offers of accommodation in České Budějovice
Hotel Budweis****
Hotel Klika***
---
---
Continue