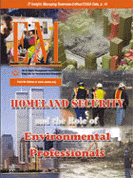 EM, A&WMA's monthly magazine for environmental managers, explores a range of issues affecting the industry with timely, provocative articles and regular columns written by leaders in the field. Business impacts of regulatory changes, new technologies, market analyses, management strategies—if it's important to environmental managers, it's covered in EM. EM also keeps readers abreast of important developments throughout the year with coverage of the Internet; the urban environment; environmental commerce; environment, health, and safety issues; new products; professional development opportunities; and more.
---
Source:
http://journalseek.net/cgi-bin/journalseek/journalsearch.cgi?field=issn&query=1088-9981
ISSN:
1088-9981
Publisher:
Environmental Expert S.L.
Updated:
9.12.2012