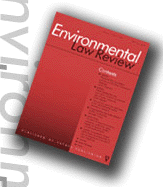 Environmental Law Review has quickly established itself as a forum for critical discussion of current and developing ideas in environmental law. It maintains a dialogue between leading edge practitioners and academics in the fields of environmental law, environmental management and business.
---
Source:
http://journalseek.net/cgi-bin/journalseek/journalsearch.cgi?field=issn&query=1461-4529
ISSN:
1461-4529, 1740-5564
Publisher:
Environmental Expert S.L.
Updated:
9.12.2012