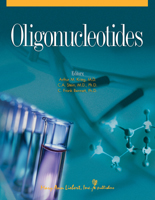 Oligonucleotides (formerly Antisense and Nucleic Acid Drug Development) is a quarterly peer-reviewed journal on human-made substances such as oligonucleotides, RNA, and ribozymes and their effects on gene expression at the RNA and DNA levels both in vitro and in vivo. A forum for basic researchers in molecular biology, cell biology, nucleic acid chemistry, pharmacology, and applied therapeutics for the purpose of developing new concepts and experimental approaches to help understand and modulate gene activity.
---
Source:
http://online.liebertpub.com/toc/oli.1/8/2
ISSN:
2159-3337, 2159-3345
Publisher:
Mary Ann Liebert, Inc.
Updated:
4.12.2012