Just finished event could we sum up in easy way: Central and Eastern Europe Life Science sector grows dynamically and plays increasingly role on global biotech market which is estimated more than 400 billion euro. BioForum 2013 strengthens this role throughout building cooperation between companies and countries.

350 biopartnering meeting, 70 participants from 12 countries, 10 panels, over 30 discussion, lectures and presentations – in such way BioForum can be summarize in numbers. However, hundreds or even thousands unofficial meetings and conversations are probably the most significant result of this year BioForum. They give real possibility to create, develop and biotech business plans and initiative. Gross of them is located in the biggest regional players in Life Science sector: in Hungary, Poland and Czech Republic.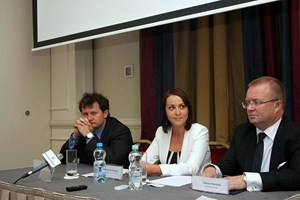 - On the global pharmaceutical market appear more and more generic drugs. Big pharma concerns don't take this fact into consideration what for them will be problematic in the next few years. At the same time, it is a great message for small and medium biotechnological companies, inter alia, from Central and Eastern Europe – said Erno Duda, president of Hungarian Biotechnology Association (HBA).
Small and medium enterprises from CEE region use this opportunity to compete with even global pharma concerns. Of course, alone it is rather impossible, but power of region lies, at least at this moment, not in particular companies, but in wide cooperation of companies in CEE bioregion. It is a key to create real competition and develop regional economies. Besides, region needs also to restrain immigration of very well, or even excellent educated specialists to Western countries – it is possible only in situation of regional cooperation and development.
- Bioregional cooperation is today necessity. We have to build long-term relationships in order to become more competitive for Western countries. And it is not question of competition in field of business development, but also in obtaining very well, or even excellent educated young people, who can choose between staying in our countries and migrating to the Western countries. And without them the best ideas and initiatives will be soon hard to fulfill – said Tadeusz Pietrucha, CEO of BioTech Consulting, main organizer of BioForum and president of Polish Biotech Association (PBA).
The most significant manifestation of cooperation tendency was signing of the cooperation agreement between PBA and HBA. The agreement enumerates the most important and significant goals for both associations and appoints frames of mutual cooperation. Both organizations are going to promote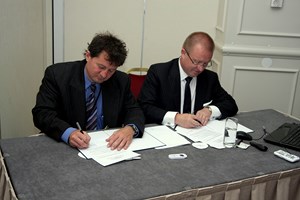 biotechnology development in Poland and Hungary and share its experience and to create a biotech friendly environment, both governmental and social. Additionally HBA and PBA are aiming coordinate its activity to attract big, worldwide biotech companies for cooperation and to obtain international R&D grants, especially funded by the European Union.
- Hungary and Poland separately are not able to build effective and strong business cluster for biotech sector, which additionally could be significant in global scale. But now, after signing cooperation agreement we have a great chance to create such a cluster, which will develop in scale of international biotech market and, at the same time, will support local initiative and start-ups. Signing of agreement is a first step to do it – added Erno Duda, president of HBA.
The increasing role of biotechnology in economy of CEE countries, first of all in Poland and Hungary, was stressed by witnesses from both governments. Polish governmental side was represented by Mrs. Grażyna Henclewska, undersecretary of Ministry of Economy of Poland.  Hungarian representative was Mr. Cséfalvay Zoltán, vice minister of Hungarian National Economy.
- This year BioForum is extraordinary thanks to signing cooperation agreement between both countries. Let this cooperation will be resultful and bring benefits for all bio companies and academia in region, as well as for societies of Hungary and Poland – said Mrs. Henclewska.
- There is no country, which can effective compete alone. Biotech sector is based on international cooperation of bio industry, so such multinational cooperation is crucial. The cooperation agreement between Poland and Hungary is positive sign and significant step for both countries, and potentially also for CEE region – said Mr. Zoltán.
Similar opinions shares also participants of BioForum 2013. They emphasize that cooperation is indispensable and events like BioForum give a great opportunity to build business partnerships.
- Generally, my opinion about BioForum 2013 is very positive (…) after
biopartnering we are positive surprised by many companies, especially by Hungarian companies.  I think Poland and Hungary will play main role on pharma and biotech market in region. – said Marek Kiecana, from KCR company.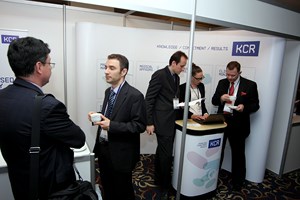 Biopartnering was companied by numerous panel discussions and lectures concerning on the most up-to-date questions and problems of global and local biotechnology e.g. biosimilars and problem with registration procedures, new application of biotechnology in veterinary, clinical trials in context of CEE competitiveness. Particularly interesting was panel about personalized medicine and its adaptation to modern anti-cancer therapy.
- Role of Central and Eastern Europe countries in biotechnology grows and will grow. Building partnership will accelerate this process and allow competing with the biggest players. Therefore, BioForum will be necessary in order to support efforts of countries, companies, clusters and associations – said Tadeusz Pietrucha summing up this year edition of conference.
The next edition of BioForum is going to take place in Łódź, in the heart of Poland on 28-29th May, 2014.
Author: Tomasz Jachimek, PR Coordinator
---
Share this article:
---
ABOUT BIOFORUM 2013
 Bioforum 2013 was the 12th edition of the event aiming to create an effective market for biotechnology services and R&D partnerships within the Central and Eastern Europe region. Since 2002 we try to offer the best conditions for companies from CEE region to meet, discuss and find partners for realization their plan for development and progress. During the BioForum event, companies are able to communicate with investors and scientists from the CEE region, where everyone can offer equal terms for partnership. So far, the established partnerships have quickly translated into economic benefits.
The mission of BioForum is to create optimal conditions for the development of innovative companies in the CEE bio industry. Growth of innovative companies will allow for the retention of our biggest resource – the talented and skilled graduates of the region's academia. We will be able to benefit this talent in the best way by creating an ample and adequate labor market.
---