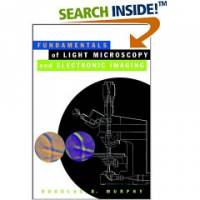 Authors: Douglas B. Murphy
Publishing: Wiley-Liss
Published: 2001

Dr. Murphy constructs a solid foundation on the basic concepts of geometrical optics, light, and color, and then provides excellent introductory reviews of important topics in light microscopy. The book is very well written and complex phenomena are clearly explained without the unnecessary math that often confuses students. Illustrations are numerous and help support the text very nicely, as do the suggested laboratory exercises that accompany each chapter. Discussions of digital cameras and image processing are timely and provide the essential concepts necessary to tackle more advanced treatises. In the opinion of the Molecular Expressions microscopy website team, this book is by far the best entry-level textbook in the field.
Odkazy: