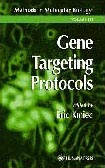 Authors: Kmiec, Eric B.
Publishing: Humana Press
Published: September 1999

A panel of innovative investigators presents, in readily reproducible detail, the latest techniques for gene replacement, gene knockout, and gene repair in both plants and animals. These expert researchers review the best gene transfer vehicles (liposomes, PEI, and EPD), discuss the parameters that affect vector uptake, and detail successful methods for gene targeting (Cre-ox, and adeno and adeno-associated viruses). The methods include two fundamentally different approaches to gene targeting-one uses a fusion protein to deliver a vector to a virus for possible therapeutic effect, and the other entails an episomal-based Epstein-Barr vector that can modulate the chromatin assembly process, and thus overcome a serious barrier to therapeutic gene targeting. The book also has several techniques for using oligonucleotides in gene targeting, a methodology that may well revolutionize the entire field. Gene Targeting Protocols offers today's researchers robust and proven gene–targeting techniques that are essential to understanding biological processes at the genetic level.
Odkazy: