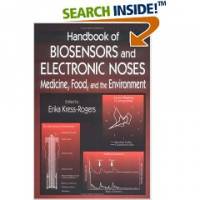 Authors: by Erika Kress-Rogers
Publishing: CRC Press
Published: 1996

In developing the electronic nose and biosensor devices, researchers not only copy biochemical pathways, but also use nature's approach to signal interpretation as a blueprint for man-made sensing systems. Commercial biosensors have demonstrated their benefits and practical applications, providing high sensitivity and selectivity, combined with a significant reduction in sample preparation assay time and the use of expensive reagents. The Handbook of Biosensors and Electronic Noses discusses design and optimization for the multitude of practical uses.
Odkazy: