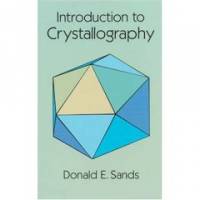 Authors: by Donald E. Sands
Publishing: Dover Publications
Published: 1994

Clear, concise explanation of the logical development of basic crystallographic concepts. Extensive discussion of crystals and lattices, symmetry, crystal systems and geometry, x-ray diffraction, determination of atomic positions and more. Well-chosen selection of problems, with answers. Ideal for a course in crystallography or as a supplement to physical chemistry courses. "This is truly a delightful monograph"—Canadian Chemical Education. 1969 edition. 114 illustrations.
Odkazy: