Given your area of research, you may wish to know that earlier today, the European Environment Agency (EEA) released its fourth Environment State and Outlook report - SOER 2010 - a comprehensive assessment of Europe's changing environment.
All content is available on the SOER website.  What differs in 2010, compared to previous EEA State and outlook reports, published every 5 years, is an enhanced understanding of the links between environmental challenges combined with unprecedented global megatrends. 

It is also possible to order a printed synthesis, soon available in 32 languages.  To order a copy from the EEA, write to Marisa.Turanzas@eea.europa.eu.  All EEA output is free of charge.
To learn more about this report, and other EEA publications released throughout the year, visit our website, www.eea.europa.eu, or subscribe by one of the following means:
Receive email alerts

Follow-us on Twitter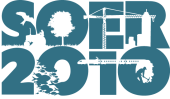 Watch us on YouTube
Subscribe to our RSS feed
Join our Facebook Group
Select one of the above ways to stay informed about EEA products and news; otherwise, you will not receive any further emails such as this one.  Should you wish to be added to a mailing list, please contact the undersigned.
Author: Karolina Slowinska
Karolina Slowinska | Project manager| European Environment Agency
Kongens Nytorv 6 - 1050 Copenhagen K - Denmark
karolina.slowinska@eea.europa.eu | Telephone: +45 3336 7162 | Mobile: +45 2136 659
---