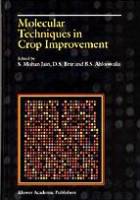 Authors: Jain, S.M.; Brar, D.S.; Ahloowalia, B.S. (Eds.)
Publishing: Kluwer/ Springer
Published: 2002

This book provides comprehensive information on the latest tools and techniques of molecular genetics and their applications in crop improvement. Advanced techniques used in molecular markers, QTL mapping, marker-assisted breeding and molecular cytogenetics have been thoroughly discussed. The volume highlights molecular genetics from the perspective of plant breeders. Special emphasis has been given on the application of molecular techniques to enhancing efficiency of plant breeding, particularly for developing tolerance to abiotic and biotic stresses, improved quality, highly heterotic germplasm, introgression of useful alien genes, strategies to achieve apomixis. Molecular basis of gene regulation under stress, role of DNA methylation, insertional mutagenesis, gene targeting and microarray technology and their relevance for genetic enhancement of crops are featured. Integration of molecular techniques to solve plant breeding problems is one of the special features of the book. The book will be especially useful to scientists engaged in molecular genetics and plant breeding. Also, it will be a valuable book for graduate students majoring in crop science, genetics, and plant breeding.
Odkazy: