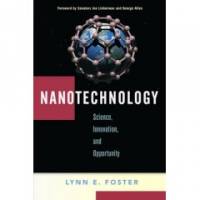 Authors: Lynn E. Foster
Publishing: Prentice Hall PTR
Published: 2005

Suddenly, nanotechnology isn't science fiction, or mere theory: It's becoming one of the world's fastest-growing, highest-impact industries. In Nanotechnology: Science, Innovation, and Opportunity, the field's leading experts offer an up-to-the-minute briefing on where the industry stands now, how it will unfold over the coming decade, and how it will impact you. Edited by the director of the U.S. government's first Nanotechnology Commercialization Conference, this book covers the latest in nanotech science, technology, and applications. You'll meet the key players, and discover nanotech at work in fields ranging from drug delivery to energy efficiency. Here are the opportunities, the challenges, the implications: all you need to know about today's nanotech business--and tomorrow's.
Odkazy: