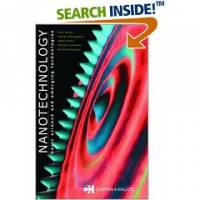 Authors: Mick Wilson
Publishing: Chapman & Hall/CRC
Published: 2002

Book Description Nanotechnology: Basic Science and Emerging Technologies bridges the gap between detailed technical publications that are beyond the grasp of nonspecialists and popular science books, which may be more science fiction than fact. It provides a fascinating, scientifically sound treatment, accessible to engineers and scientists outside the field and even to students at the undergraduate level. After a basic introduction to the field, the authors explore topics that include molecular nanotechnology, nanomaterials and nanopowders, nanoelectronics, optics and photonics, and nanobiometrics. The book concludes with a look at some cutting-edge applications and prophecies for the future.
Odkazy: