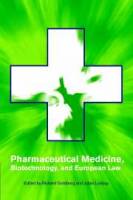 Authors: Edited by Richard Goldberg, Julian Lonbay
Publishing: Cambridge University Press
Published: January 2001

European law has been faced with increasingly complex issues emerging from rapid developments in pharmaceutical medicine and biotechnology. A team of distinguished European legal practitioners and academics reassess the impact of European law on health care and pharmaceutical law. The essays are grouped under four themes: Free movement of goods and persons, competition and intellectual property; European drug regulation; Biotechnology; and Product liability and transnational health care litigation. The book reviews the impact of European law on movement of health care professionals and pharmaceuticals, patent and trademark rights, the Product Liability Directive, laws on product liability and intellectual property claims. It examines recent developments in drug regulation, particularly data protection, abridged applications for marketing authorisations and the European Medicines Evaluation Agency. A compelling analysis is made of the Biotechnology Directive morality clauses. This important study offers a valuable resource for the pharmaceutical and biotechnology industries, legal academics and practitioners alike.
Odkazy: