In our laboratory we investigate the nutritional/energetic state of a cell as potential regulator of Notch activity. We are particularly interested in the NAD+ and NADH levels that represent the cellular redox state. Using cultured cells as well as Drosophila model of Notch dependent cancer-like overgrowth we would like to determine how Notch signaling is influenced by changes in the cellular metabolic profile and what the molecular determinants are behind this regulation. We also investigate how some of the metabolic genes are under the transcriptional control by the Notch pathway, thus creating a regulatory loops.
As a consequence we anticipate this will help to explain the differing responses to Notch activation and provide additional insight into Notch signaling under physiological conditions as well as in cancer.
Take an opportunity and apply for a newly opened postdoc position! An outstanding salary conditions and a 6-months fellowship at the University of Cambridge, UK are included. Please, send your CV to Alena Krejčí, head of the lab, to this email adress: akrejci(at)prf.jcu.cz.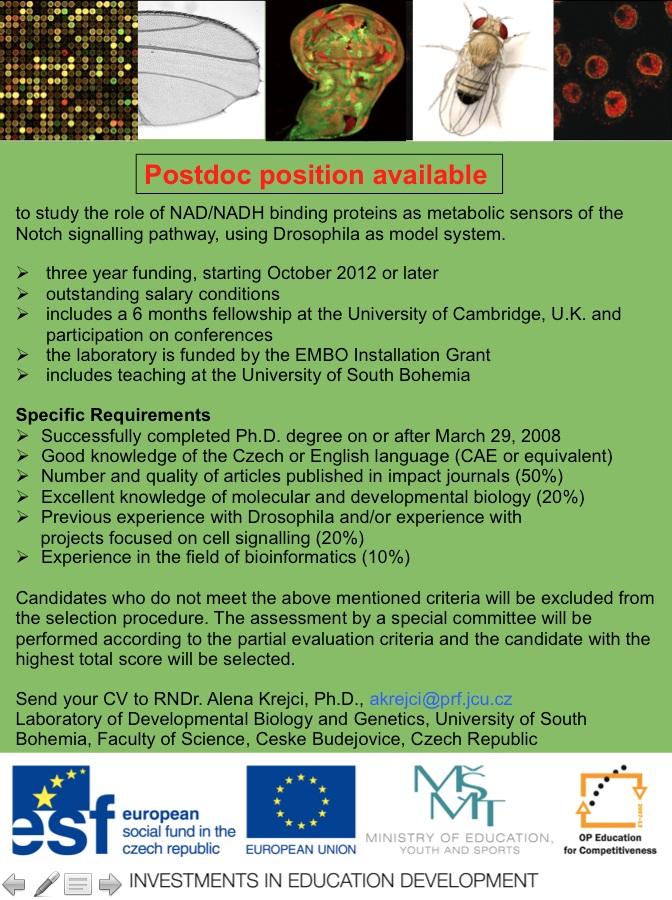 ---
Source: http://kmb.prf.jcu.cz/en/laboratories/en-krejci-lab
Photo: http://kmb.prf.jcu.cz/en/laboratories/en-krejci-lab,  www.wikimedia.org
Author: Ad
---