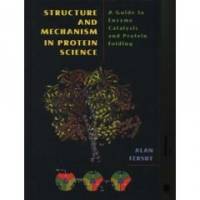 Authors: Alan Fersht
Publishing: W. H. Freeman
Published: 1998

This book belongs in every protein biochemists collection. It is a clear, up-to-date review of protein structure and function, with a concentration on enzymes. It covers a host of vital topics, including: the theories of chemical catalysis, enzyme kinetics (buy Segal for an in-depth study of this topic), the methods for determining rate constants, the stereochemistry of enzyme reactions, various regulation mechanisms, binding energies and the forces between molecules, and an overview of protein engineering techniques.
Odkazy: