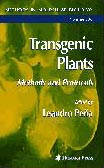 Authors: L. Peńa
Publishing: Humana Press
Published: August, 2004

A collection of readily reproducible techniques for the genetic transformation and regeneration of plants. The authors cover the most commonly used transformation systems for the regeneration of whole transgenic plants. Among the techniques discussed for the detection of transgenes are quantitative real-time PCR, RT-PCR, in situ hybridization, FISH, and TAIL-PCR. Risk assessment methods offer the opportunity to study Agrobacterium persistence in plant tissues and to investigate the possibility of transgene dispersal. The protocols follow the successful Methods in Molecular Biology™ series format, each one offering step-by-step laboratory instructions, an introduction outlining the principle behind the technique, lists of the necessary equipment and reagents, and tips on troubleshooting and avoiding known pitfalls.
Odkazy: