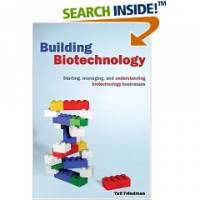 Authors: Yali Friedman
Publishing: Thinkbiotech
Published: 2004

Friedman's 'Building Biotechnology' provides a good holistic introduction to the business of biotech. It is concisely written in layman's terms, with short & sweet case studies through out the book. What I find weak about the book is its limited coverage on the important topic of biotech valuation (readers who are interested in that topic can check out Peter Boer's 'Technology Valuation Solutions', or Richard Razgaitis's 'Valuation and Pricing of Technology-based Intellectual Property').
Odkazy: