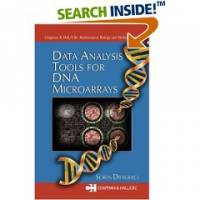 Authors: Sorin Draghici
Publishing: Chapman & Hall/CRC
Published: 2003

Data Analysis Tools for DNA Microarrays helps you meet the challenges of DNA research, by presenting the basics of microarray technology and more importantly, the specific problems the technology poses from the data analysis perspective. It also introduces the fundamentals of statistics and the details of the techniques most useful in microarray data analysis. The book is richly illustrated in full color and comes with a CD-ROM containing trial trial versions of software for image and data analysis.
Odkazy: