Why is the Czech Republic a good location for life sciences?
Gate2biotech has put all the relevant arguments into one place in order to demonstrate the advantages of the Czech Republic in this sector.
Strategic position in Europe
The Czech Republic is located right in the heart of Europe. Through its network of highways and motorways (which is by the way one of the most dense in Central and Eastern Europe), the Czech Republic is well connected to all its neighbors: Germany, Austria, Poland and Slovakia.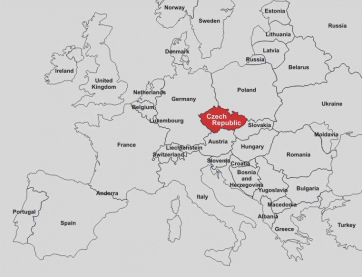 Codified system of investment incentives
The system of investment incentives is regulated by the Act on Investment Incentives (Act. No. 72/2000 coll.) which has been effective since May 1, 2000. Its subsequent amendments came into force in May 2004.
There are principally three programs of investment incentives: Manufacturing sector, Business support services and technology centres, and Job creation support programme for regions worst affected by unemployment. For more information please see www.czechinvest.org, section investment incentives
Creativity and support of Research and development
Before the World War II, Czechoslovakia was one of the most developed countries in Western Europe when speaking about industry. Czechs had a reputation of creative and very well educated people. Our country was well known for its car industry but also for its research base especially in the pharmaceutical area.
During the communist area this creative spirit and hard work did not disappear, it was only kept aside. Czech scientists had to work very often secretly on projects which made the world better. For expample Prof. Wichterle made the first contact lenses in his garage because this research was not support by the government.
After the velvet revolution, the government started to support again research and development. The state gives more and more money to research (in 2004 it was only 0,58 % of GDP per capita, this year it was already 0,59% of GDP and in 2006 it will be 0,60%). The government also passed a serie of important laws which give advatagous conditions to private companies spending money on R&D. This law permits the companies for expample to deduct their R&D expanses from their tax base.
High-developed technical base
The Czech Republic counts more then 18 research institutes, which work primary in the basic research domain.
On the other side, there exist approximately 120, mostly small companies, which are working in the life sciences domain. Even if they are quite small, they cooperate with foreign institutes, companies and universities. They employ mostly highly skilled researchers who have experience in their domain and often also experience abroad.
Strong educational base
Students and graduates are obviously the base of the sector. They bring new ideas to science. If some years ago the general trend was to study economy and international affairs, nowadays more and more young people turn to science and especially bio, chemistry and food oriented.
The Czech Republic has an output of approximately 7 400 graduates per year only in the life sciences sector, which corresponds to slightly more then 18,5% of all the graduates. Young people are more and more keen to study life sciences but also to work in this domain.
Moreover the great advantage of the Czech republic is that the life sciences are spread all over the country and are not only concentrated around one city, which is well shown on the following map: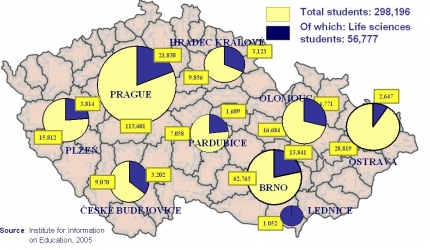 ---