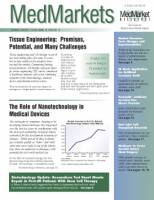 Authors: Publisher: Patrick J. Driscoll, Managing Editor: Dona L. Watson
Publishing: MedMarket Diligence
Published: 12 times per year

MedMarkets is published 12 times annually. Coverage encompasses medical device, biotech, biomaterials and the range of technologies encompassing device market developments and analysis of:Interventional Cardiology, Cardiovascular Surgery, Orthopedics/Musculoskeletal, Abdominal & Thoracic Surgery, Gynecology Oncology, Neurology & Neurosurgery. Subscription rates annually: $695 print OR electronic (PDF & HTML) $845 print and PDF/HTML.
Odkazy: