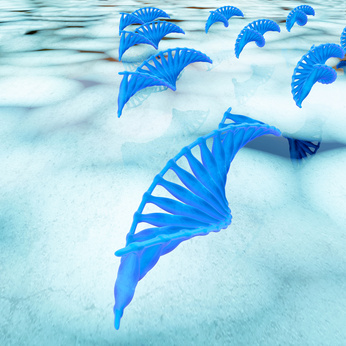 Credit:
fotoliaxrender - fotolia.com
19.10.2016: Recent research has shown that, in some species, parents' life experiences can alter their offspring. Being underfed, exposed to toxins or stricken by disease can cause changes in a parent's gene expression patterns, and in some cases, these changes can be passed down to the next generation. However, the mechanisms that cause this effect—known as non-genetic inheritance—are a mystery. New research from the University of Maryland provides a surprising possible explanation.
7.12.2015: Currently, we solve three main tasks using Arabidopsis thaliana as model: 1. Genetic determination of metabolome pathway connected to prenylflavonoid and lupulin production in hop. 2. Study of...

Credit: Kredit: kalafoto - Fotolia.com
19.1.2016: Amsterdam, January 12, 2016 – On the 17th of May, professionals from cold & supply chain, logistics, distribution, warehousing, quality assurance and validation, sales and operations planning,...

Credit: EEN
12.10.2016: A Hungarian SME with several years experience in composting procedures has developed a new, more useful and environmentally friendly technology for sewage sludge composting, which can be useful for...
11.8.2014: Understand the valuation concepts and techniques that are commonly applied in the pharma and biotech industries, Pharma-Biotech Product and Company Valuation with Dr. Patrik Frei!

Superbugs & Superdrugs USA


Renaissance Woodbridge Hotel, Iselin, New Jersey, November, 14 - 15, 2016

Biosimilars North America


Renaissance Woodbridge Hotel, Iselin, New Jersey, USA, November, 16 - 17, 2016

32nd Ernst Klenk Symposium in Molecular Medicine


Cologne, Germany , December, 08 - 10, 2016
Gate2Biotech - Biotechnology portal introduction

Having the status of the official portal for Czech biotechnology, Gate2Biotech serves to biotechnology companies, suppliers, investors, institutions, students and general public interested in biotechnology.
The portal is dedicated to the following subjects: plant and animal ...
unites biotechnology community
produces biotechnology report
completes biotech database
monitors latest news in biotechnology
encourages innovative ideas
searches investors
facilitate worldwide awareness of biotechnology